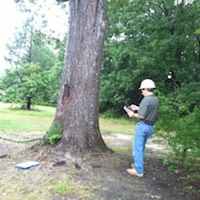 We have a wide range of tree inspection services that fit your unique situation.  Homeowners, property managers, and municipalities trust Onebark's Certified Arborists® to objectively assess trees and landscape issues.  
We are PEOPLE-FOCUSED.  We understand the relationship between people and trees.  We understand how a tree's health and safety affects YOU as well as the environment.  That's why Onebark's arborists are called upon when tough decisions need to be made.  We listen, inspect, and advise. 
  
Full Property Inspection $195

For properties 1/2 acre or less in Atlanta and around the perimeter.  This is our most popular service.  It includes a full detailed report and Level 1 risk 
assessment by a Board Certified Master Arborist®.  
Here is how a Full Property Inspection is structured:
Meet & Greet - know what to expect about the inspection
Interview - answer a few questions about your property and tree history
Walkthrough - show the Arborist your concerns
Assessment - your Arborist will examine your trees
Wrap up - Arborist will review key findings with you
Get your report - often within 20 minutes, your inspection summary will be emailed to you.  (Some reports will take up to 48 hours)
  Diagnosis Visit $95

30 m
inute consultation for a single tree analysis with basic report.  Choose this option when you are concerned about a sick tree, a declining tree, or need DIY advice.  We will make a prognosis and provide recommendations.

RiskAssessment $160
Evaluation of a single tree.  This includes a site visit, inspection, visual analysis using Level II standards.  You will receive a full risk assessment report.  In cases where internal decay is suspected, the Resistograph® or other diagnostic instruments may be recommended; these services involve additional costs.
No matter what the situation, Onebark has the right tree inspection package for you!  Contact us for an affordable quote, at no obligation.
If you want to see how qualified we are, check out our Arborists here.